Create a Magical Cinema Experience in your Own Home
Staying home doesn't have to be boring.
Since lockdown began, we have transformed our homes into offices, playgrounds, gyms, schools and now – Cinemas. Celestial Cinema have created the perfect solution to all of our home entertainment needs, ideal for those home movie nights.
Home Edition is the brand new cinema in a box experience kit from the team that brought you Celestial Cinema. Enjoy your favourite films on 72-inch screens paired with a projector to provide the ultimate in transformational flexibility. Using hassle free technology with a variety of compatibility options, repurposing your home has never been so easy, or looked so good.
Each box option available (Action or VIP) comes with popcorn and everything you need to create that movie magic experience. Whether snuggling up for a family friendly festive favourite or adding a sparkle of stardust to date night, Home Edition has it covered. So, dim the lights, open the popcorn and get ready for a magical evening.
Ready to use & Hassle-free technology
Our Home Edition Projectors are designed to adapt to every room and appliance so that you can finally sit back and enjoy!
Using hassle free technology with a variety of compatibility options, repurposing your home has never been so easy, or looked so good. Simply connect our HDMI screen mirror stick to any of the showcased devices and you are good to go!
Outdoors, in the kitchen or in the living room the choice is yours, take your Home Edition projector wherever you want.
Build Your Own Magical Cinema Experience at Home
Ever wanted to recreate those magical movie night experiences with your loved ones?
Celestial Cinema is bringing you the ultimate guide for the perfect cinema set up. Venture out into the wilderness and build your very own glamping experience in your home or simply wrap up by the fire with your loved ones, you don't have to worry about anything else, the rest is on us!
Our Cinema boxes are all inclusive and bring you a 72" screen, a multi-purpose projector and your choice of magical treats.
Sometimes dreams really do come true!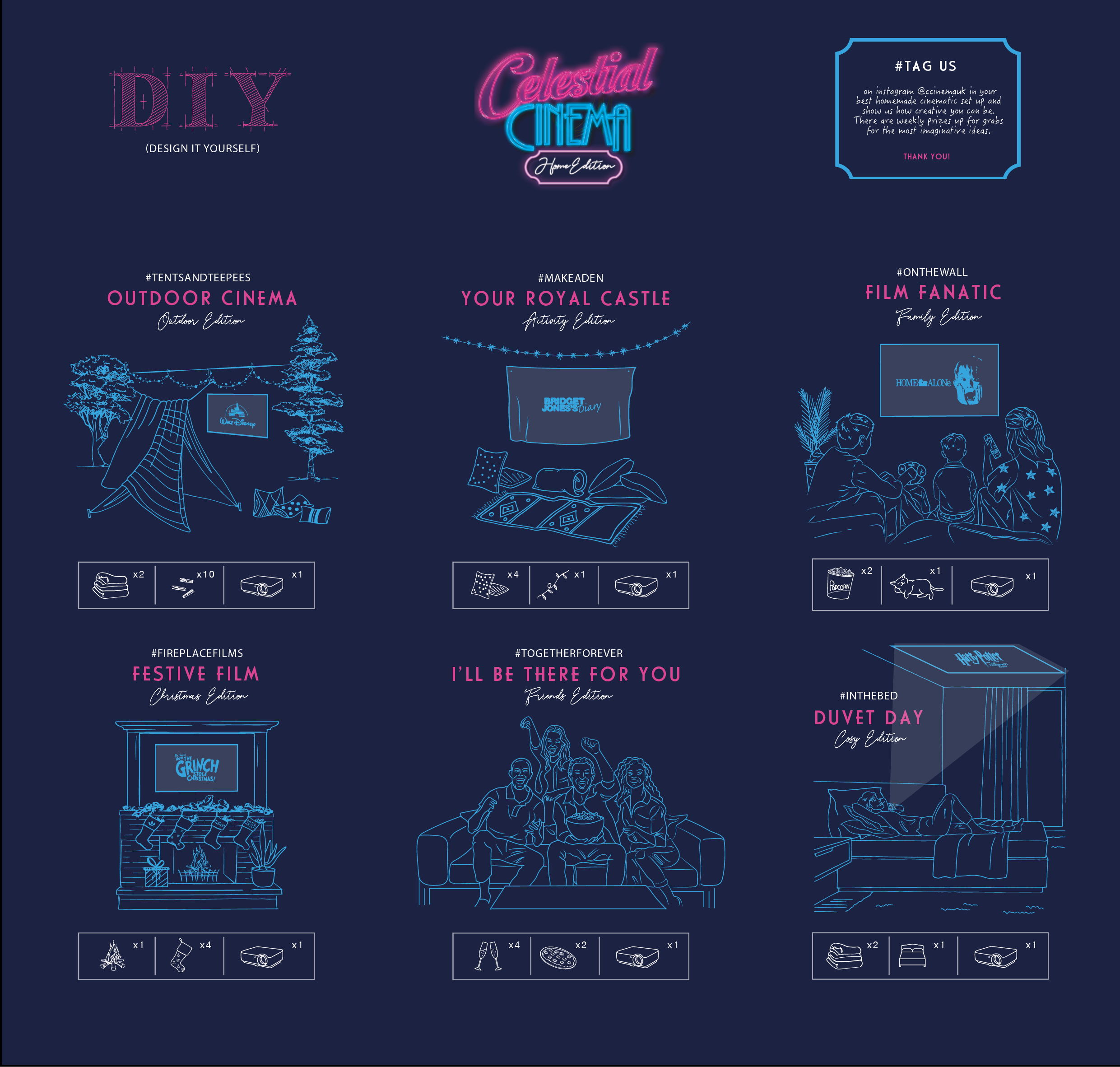 Home Theatre Cinema Projector
Projector Unit description / Specifications:
Display type: LCD
Native Resolution: 320 x 240
Resolution Support: 1920 x 1080
Brightness: 400 - 600 Lumens
Contrast Ratio: 800:1
Lamp: LED
Interface: 3.5mm Audio,HDMI,TF Card Slot,USB
Power Supply: 5V
Color: Yellow, Black, Blue
Projection Size: 20-60 Inches (the projector works better with 60 inches screen)
Package Contents:
1 x YG-300 LCD Projector
1 x USB cable
Home Theatre Cinema Screen
Watch your favourite films comfortably. All our boxes are equipped with high quality 72" screens for a real cinema experience.
Hoping to impress that special somebody? Or perhaps you're just looking to treatyour bubble buddies? The Home Edition is sure to be the perfect surprise.